Anti Scald Devices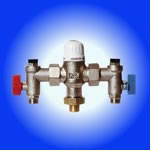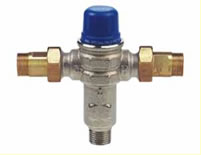 Thermostatic mixing valves and tempering valves
The best way to prevent scalds is to reduce the temperature at the bathroom with an approved anti-scald device such as a Thermostatic Mixing Valve.
Tempering Valves and Thermostatic Mixing Valves work by mixing hot and cold water together to reduce the temperature of the hot water.
The Australian Standard (AS3500) that requires that these valves be installed also requires that they are tested at least annually in a commercial & domestic installation, & monthly in an aged or childcare facility by a suitably trained person. This is to ensure that the water temperature is correct & the valve is functioning correctly.
After testing a certificate is provided to the owner as proof that the valve has been tested. has plumbers that are trained to carry out this specialist work.
Contact us for further details and ordering information.