Rain Water Tank Storage
Can you install a water tank?
Yes, you can install a rain water tank in just about every house, duplex, town house, or even a terrace.
There are many water tanks that are now available, they can either be under ground or above ground, with just about any capacity available, although if you want to install a water tank over 10,000 litres council approval is required.
The water stored can be used to water gardens, supply water to toilet cisterns & clothes washing machines.
The State Government also has a rebate system in place as an incentive for you to install water tanks when supplying water to toilet cisterns and washing machines.
Contact us for further details and ordering information.
A selection of above ground tanks that are available.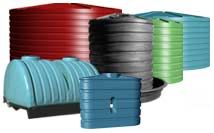 One of the many below ground tanks that are available.